CO2 fractional laser Treatment Theory
Fractional laser penetrates skin and forms tiny thermal channels. This creates some ablative and thermal effect only on these channels (a micro-injury) without damaging the surrounding tissue. The tissues surrounding the micro-injuries (about 15-20% of the treatment area) start the healing process. As the collagen remodels, the skin is tightened, scars and pigmented lesions are improved as well.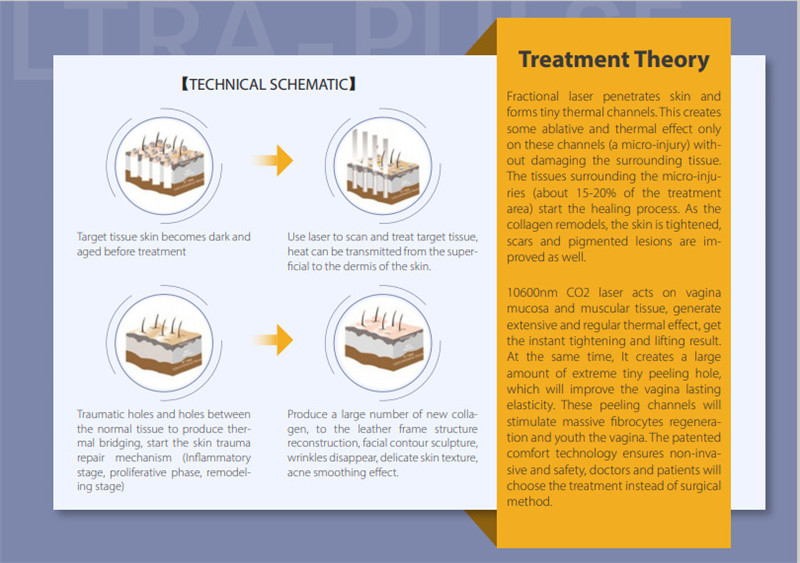 application
Large pores, fine lines, skin tightening and whitening, skin loosen, deep wrinkles, stretch marks, striae;
Scars: superficial scar, hypertrophic scar, keloid.Burn scars, acne scars, surgical scars etc.;
Pigmented lesions: Melasma, freckles, age spots, sun spots,
Reconstruction of Photo-damaged skin.Collagen regrow
Blepharoplasty, skin tags and ingrown nails, compound Nevus and intra dermal Nevus, plastic surgery, laparoscopy, gynecology, proctology, warts, xanthelasma and other epidermal nevi.
Vagina Loosing, Vulvar hypertrophy, Vulvar pigment lesions, Vaginitis, Mild and Moderate level Stress urinary incontinence, Vagina Health Care.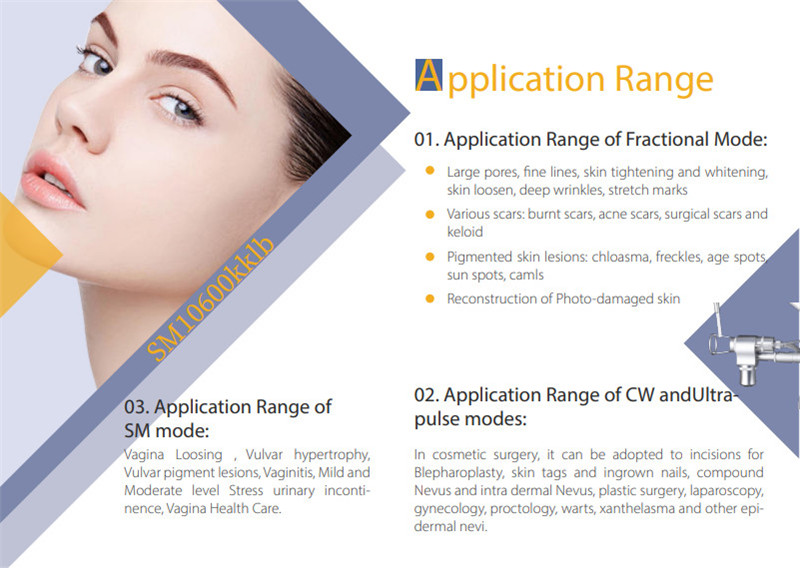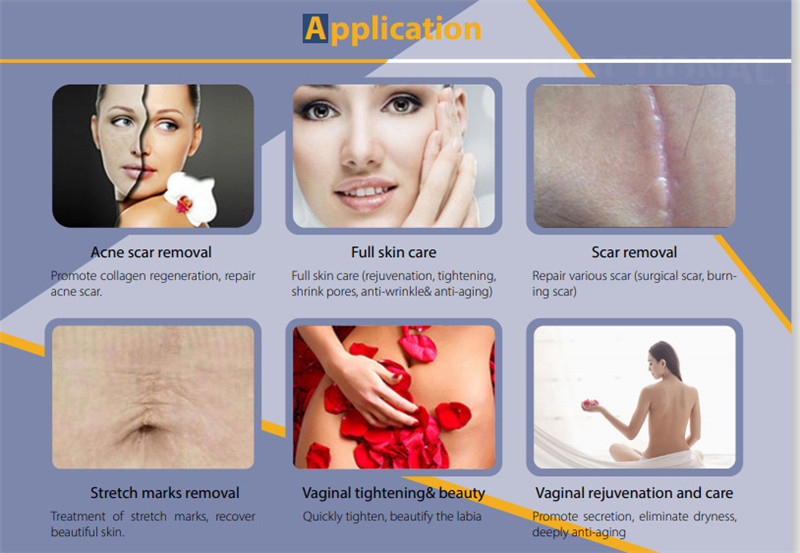 Detail showing.Machine, and spare parts display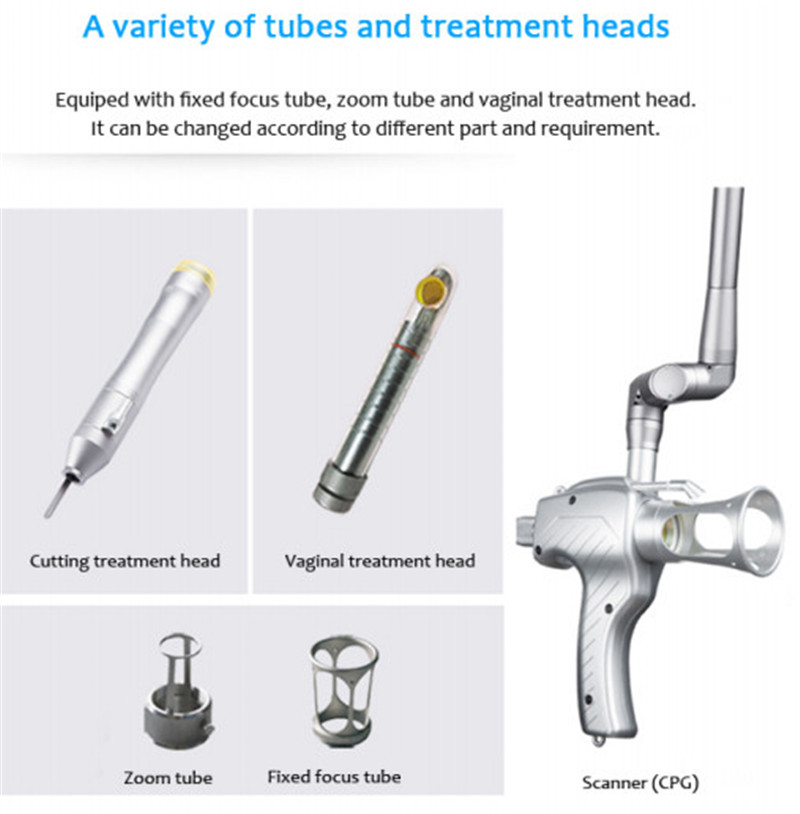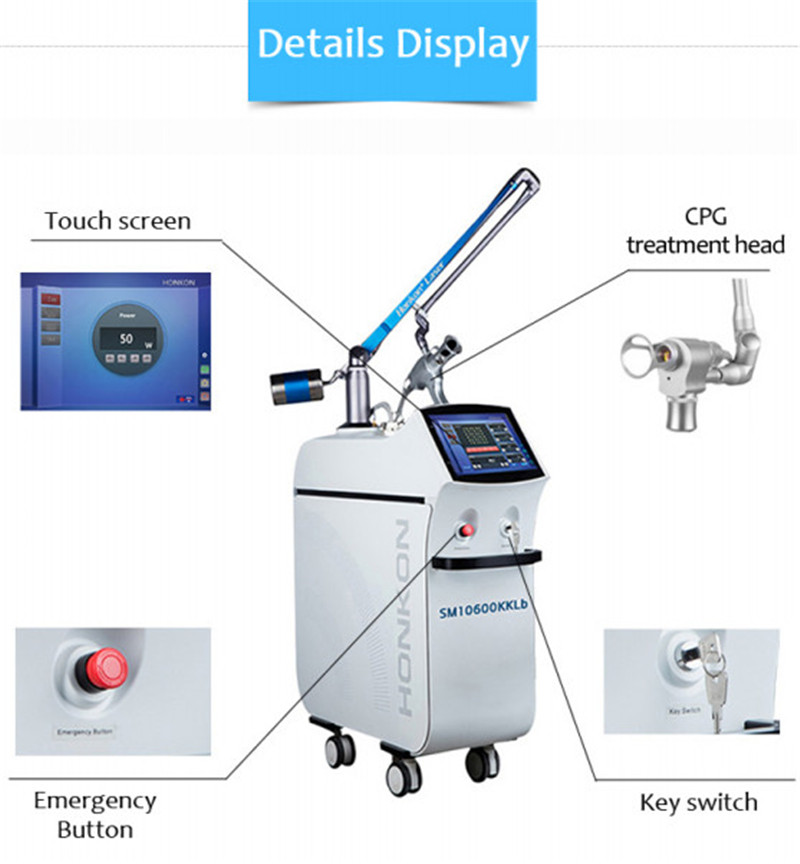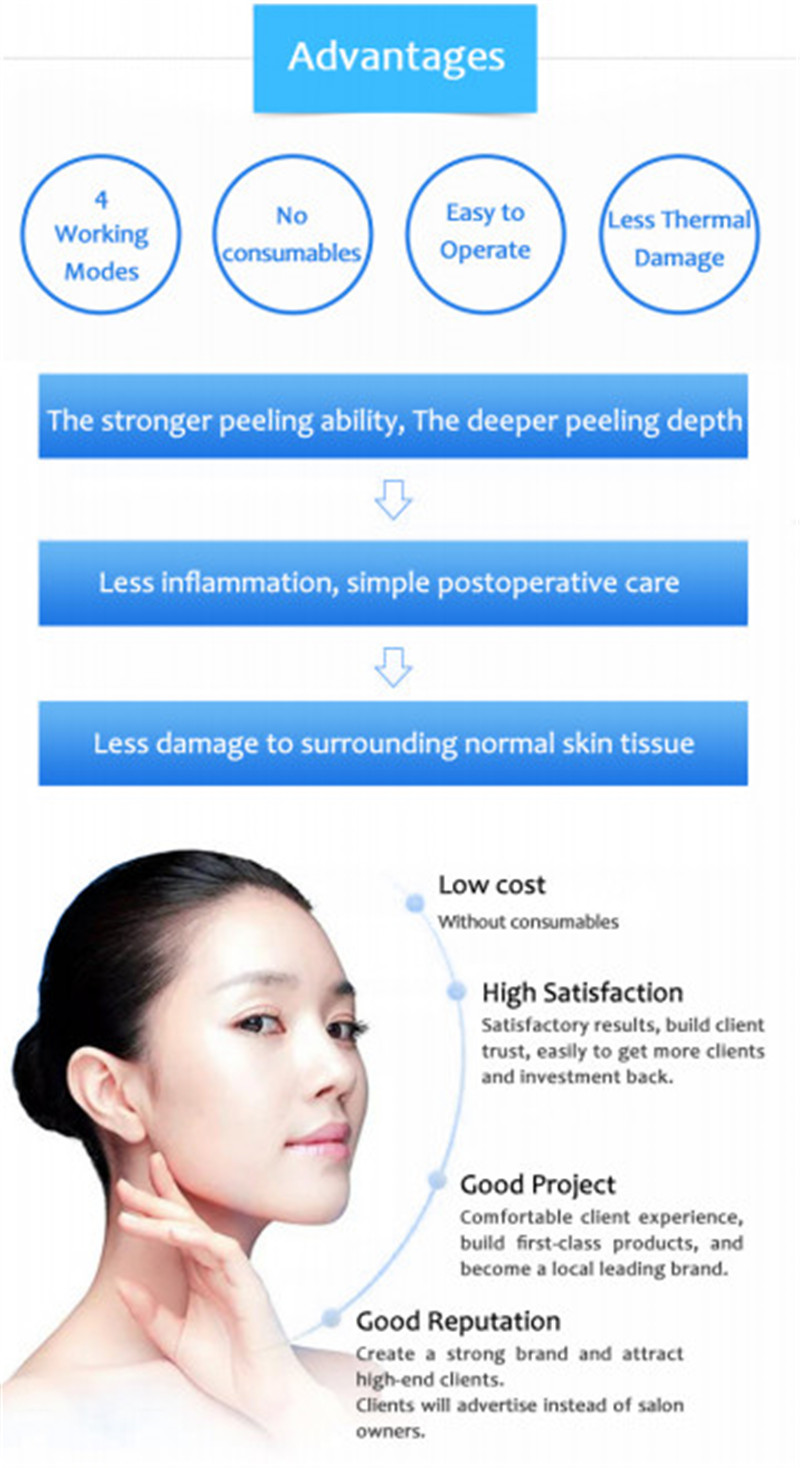 Advantages
Adopted RF-excited CO2 laser generator (50W) from Coherent Inc USA, brings maximum results and minimum downtime.
·Highest power fractional laser in the global which leads to deepest peeling depth,highest treatment performance and less complications.
German CPG enables minimum focal spot diameter, for deeper penetration and even spots.
3 kinds of optics lens meet different area treatment requirements.
Adjustable focal spot lenses can be freely used for deep or shallow skin tissues.
Roller type of fixed focal lens(optional) enables minimum focal spot diameter, specially used for orbital, periorbital and nose wing, etc.
The Vaginal tip transmitting can complete the procedure with 10-15 minutes and one session. At the same time, it can reconstruct the outer vagina.  disposable dust-free laser tube,avoid from cross inflection
High power single pulse laser and extreme tiny light beam works on the vagina mucosa and muscular tissue, generate the most tissue reconstruction.
360° dead-zone free toroidal transmitting can complete the procedure with 10-15 minutes , including the reconstruction of the outer vagina.
Air cooling Technology reduces patient discomfort.
Korea Well-balanced articulated arm with 360°positioning